Thinking about how I got started with fiber
Last December I was interviewed for an article in the local paper, The Hillsboro Star Journal.( Dec. 16, 2004 vol. 97, NO 12) Michelle, the reporter asked me questions that made me think. She asked how I got started with fiber. It took a few minutes of thought to realize how this all began.
My Aunt Ruth Ann asked my sister Natalie if she wanted to go to knitting classes with her. Natalie was the oldest and was probably 12 or so at the time. I was about 6, not the ideal age to be taking to a knitting class. Natalie went to the class and made the slippers and never knit again. I asked her for the book and needles and taught myself how to knit. I still have the big size 10 1/2 yellow plastic needles, and remember the pattern for the slippers. I have made many pairs through the years. In about the fifth grade some girls we wearing knitted headbands that they had made. I wanted one. I asked my Grandma, Ella Bosselman to buy me knitting needles when we were at the Woolworth's in downtown Fort Wayne, Indiana. She bought me some gold size 4 needles. I was ecstatic. A couple of girls and I would knit during recess. Sometimes we would forget how to start again after putting the knitting down. I would go to the office at the school and ask my Aunt Ruth Ann, who was the secretary there, how to proceed. The teachers thought we girls should be out playing in the playground, not knitting on the steps. Until we chased the boys, and then were told that knitting was fine.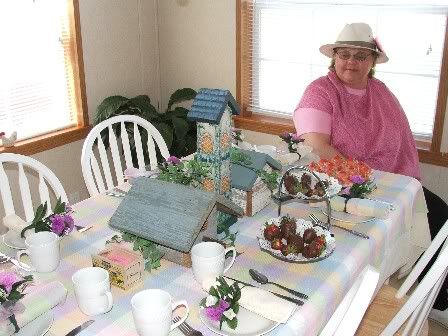 That was not the beginning though. A week ago I was at a tea at my sisters house in Indiana. Natalie had invited our cousins and aunts for a fancy tea. It was lovely, petite fours, chocolate dipped strawberries and finger sandwiches. It was the day of Camilla and Price Charles' wedding and we wore hats and spoke with British accents from 2:30 until 3:00. Keeping our pinkies out and being such ladies. It was hilarious. My cousins are still likely to break into song (oldies) at the slightest provocation. While the rest were looking through a box of old photos and reminiscing about the good old days, I was sorting my knitting bag. It was a tangled mess. I had taken it to Colorado, and now to Indiana without ever sorting it out. I was untangling yarn for about 15 minutes when my Aunt Norma commented that Uncle Ferd was a great untangler.
When I was small, we had gone to Uncle Ferd's and Aunt Norma's to get eggs for many years. I remember the basement where the eggs were kept. It had a distinctive odor, not unpleasant, but very unique.
After getting the eggs we would go to the kitchen and visit. I remember that Uncle Ferd was the type that threw nothing away. I remember him keeping the string that the large flour and feed sacks were sewn with. He would put them into a bowl, and later untangle it and wind it into a ball. That was actually the beginning.
Uncle Ferd taught me how to untangle string. You never pull it tight, but pull it apart and follow one strand, until it comes loose, then start winding it up. Untangling yarn is something I do every day, and it was Uncle Ferd who showed me how.