Kim's Poncho aka Martha Stewarts Coming Home
I started a poncho for my sister Kim made with
Dudley's Tie Dye Roving
. I am using the create with unspun roving method from Spin Off Magazine. My instructions for the method are also listed in this blog.
Kim liked the ponch that Martha Stewart was wearing going home from her jail stay. Lion Brand yarn has the directions
click here for the pattern.
I made a few changes to the pattern, but it is the basis for the poncho. I used a crochet ribbing for the collar. I cast on 7 stitches and did a ribbing stitch where you always crochet only into the back loop of each single crochet. Do one sc in the back loop only of each sc. SC 7, chain one and turn. The collar is 24 inches in diameter, but because it is ribbing, it fits closer around your neck than the pattern appears to. After I made the collar and joined it with single crochet, I did a couple of rows of sc going only into the back loop of each sc. I just like the look of it.
I followed the directions in the pattern and did 3 dc in one stitch, skip one sc and make 3 dc in the next stitch. I had 41 blocks, so divided that in 1/2 and made the corner stitch of 3 dc chain one 3 dc in one space at 20 blocks, not fussing about the one block difference. The poncho collar lays nicely so far. I adjusted the gauge because the pattern calls for a larger hook, since my hook is smaller it has more stitches.
I chose a roving that I had about one pound of, in a colorway that my sister would like. I don't know how much it will actually take, but I will weigh it when it is finished.
THE ROVING: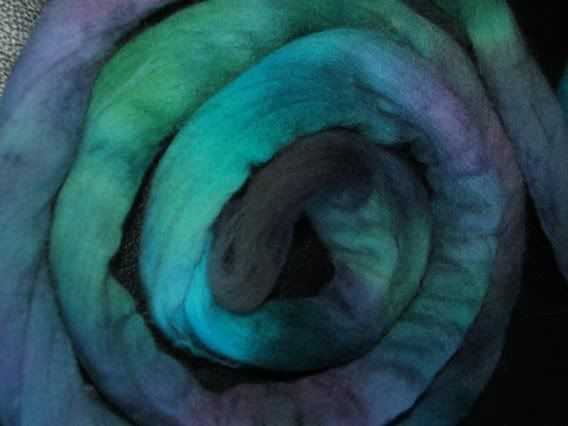 DRAFTING THE ROVING: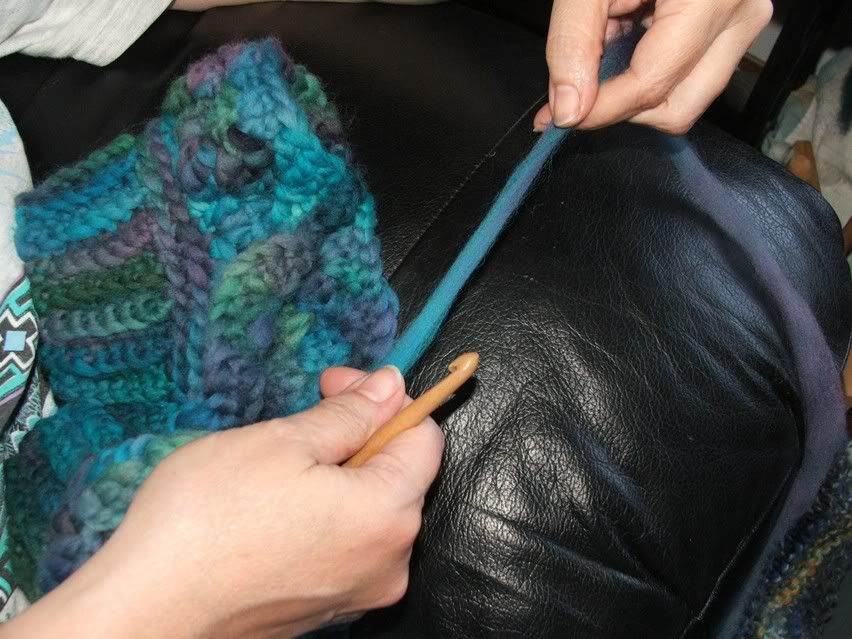 THE PONCHO COLLAR: